Indie Guide to Paris: Cheap and Cool Eats
Where to Eat in Paris for Students
(That isn't under a bridge with cheese or following an overused guidebook)
A Guide to Affordable and Trendy Eats in Paris
Introduction
Sure you can take a hot chocolate at
Les Deux Magots
and ponder the meaning of hell and purgatory like Sartre did at this great cafe, but if you keep following a regular guide book your understanding of Paris will relate mostly to your bank account. Even thanks to Greece and
the weakened Euro, Paris remains one of the most expensive cities in the world and I hate to break it to you but eating out a regular meal will probably be minimum 20 euros or $30 ! Put into context that is a lobster feast at Red Lobster (love you middle class America)!
En gros
, it is hard to get a good bang for your buck and as a backpacking student or ex-pat trying to scrape through this expensive city you can easily become poorer than Greece. Despair not.
What's listed below is what I have found for 10 euros or so with AMAZING food, ambiance and service, and what made eating in Paris some of the most magical times while remaining fiscally responsible. However, I have listed a few places that are more in the budget of Blair and Serena this summer (actually it is in 20-80 Euro price ranges, so still probably beneath them) but they are so cussin' trendy, romantic or unique that it is worth a couple days of baguette and cheese to save up for.
One word of warning though, fellow eaters: "good service" has a whole different meaning in Paris than it does in the New World. If you come with the same expectations you will be at best disappointed and at worst absolutely livid (see Where Not to Go, below). Good service is friendliness and patience with your more than likely screechingly horrible French accent. You'll see, it's rare to find. As someone who takes service and quality very seriously and ends up hating most places, these are the few that kept me coming back throughout my séjours there. Of course everyone has their own gems but these are mine, I hope they please you as much as they have me. Bon Ape-tit!

Contents: Where to Eat in Paris
1. French/Mix
9. Where NOT to Eat
10. Music
11. More on Paris



1. French/Mix


Jardin d'en face (Montmartre): This is one of my top picks for cute and authentic French restaurants. To save money, avoid the camera snapping crowds and caricatures of French waiters trying to goad you to their overpriced restaurant, I recommend descending from the main area of Sacrecoeur about two levels. This little restaurant with typically French food without the Parisian prices has exploded in popularity amongst the local people. I went there recently for the first time in two years and was shocked that there was not a table available. The food is amazing and you can get main courses from 12-15 Euros with options such as steak, lapin, lamb and fish. It is a simple dining set up, with no menus and prices written in chalk on the wall. All in all there is a cute l'air francais about the place that will absolutely charm you and remind you why you love Paris. It's definitely worth the food, ambiance and service if you discover what I haphazardly found on one of those poor days. If there no tables available, I recommend trying the brother store 100 metres down the road, Potager du pere Thierry..but it is even smaller and more intimate than the Jardin so good luck! 33 Rue de Trois Freres, Montmartre 18th. Metro: Abbesses

Lil'Fel's pick: LE LAPIN + Side = 12 euros
(Artist: Brian Donnelly )



Au Pied du Fouet (7th) : This is my other pick for cute, affordable and great place(8-15 euros for a main course). It is the epitome of French restaurant with red checkered Wes Anderson style table cloths, small terrace and a loft area for when things are too busy. It's where I ate couple times a week with mon amour, my co-workers and also friends for good ambiance and great service. An authentic gem in the middle of the most chic area of the Paris, the 7th. 45 rue Babylon, off of Boulevard Saint Germain. Metro: Line 4, Saint Germain des Pres
Lil'Fel's Pick: Steak + potatoes = 10 Euros (approx)



Pom'Cannelle (Ile Saint Louis):

Yes, there is an affordable and decidedly amazing restaurant on this expensive, tourist ile known for its Bertillion ice cream. There are meals for less than 10 euros, with the chicken and rice being what I ate religiously because a) it took me to heaven and b) also reminded me a bit of home with its rice options. The food is mostly French but has a variety of more colourful choices that distinguishes it from its neighbours and most restaurants in Paris. Great milkshakes as well made with the island's specialty ice cream and other dishes. Tourists were surprisingly few given it was in the mecca of ice cream land. Additionally, while on the island you can take beautiful pictures with Notre Dame in the background and munch on a world famous ice cream cone. Great service and food. By great service, I mean relatively of course. The people are friendly and attentive and that is more than I can say for most places in Paris. 27 Rue des deux Ponts, 75004. Metro: Line 7, Pont Marie.

Mama Shelter (13th): Oh mon dieu how can I even start to express how branché (the word for hip) this place is? Mama Shelter, at the base of one the most design cool hostels in the city and across from La Fleche D'or, the underground rock club in Paris, is so modern art trendy it will dominate your eating experience. You will feel such deep satisfaction and excitement for how cool the joint you are eating in that it will not matter what you order. There are vintage photos on the walls, writing of crazy French and English phrases on the ceiling. The downside: It's not exactly cheap (20 Euros and more to eat). I ate a roasted chicken piece with some potatoes done in special sauce and it was one of the cheaper things on the menu. However, it was the epitome of the modern chic side of Paris mixed with the funky, trendy part that is less prevalent to new tourists and def worth experiencing. Crowds are mostly in their 20's and 30's. The place is perfect for taking a quick cocktail and impressing your friends, or taking your hipster date and getting insta-laid. 109 Rue de Bagnolet 75020. Metro: Gambetta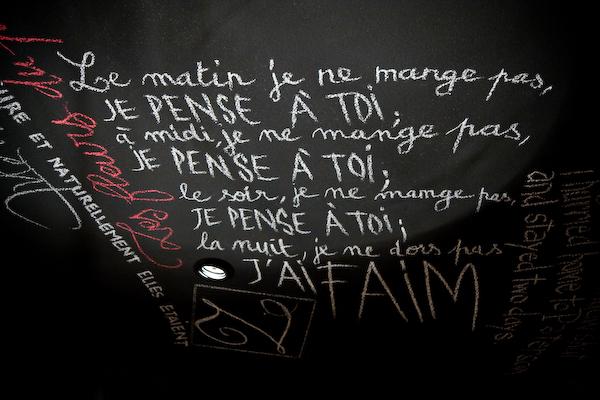 Les Enfants Perdus (Canal Saint Martin, 10th)
Sitting in a chic, almost fine dining restaurant with Bob's Marley and Dylan playing in the background is the perfect combination for a young couple on a date. The design is super rad with edgy and soft photographs lining the wall and a big comfy sitting section of a sensual living room. The ambiance reminded me of Union in Toronto's Ossington area. I had been recommended this cozy yet classy place along Canal Saint Martin by a good friend and I wasn't disappointed. The food is French with creative twists by the chef and everything is supposed to be mega fresh. They get two deliveries a day and they boast to not having a refrigerator for anything except to hold ice and ice cream. I had a starter of
Ravioles
that was made with chevre (goat cheese) and curry sauce (10 Euros) with a main course of Beef made with blue cheese and potatoes (the cheapest main course = 19 euros). For a drink I tried their Home Made Ice-Tea which was extremely good..but tasted more like juice. There is mostly an older crowd given the prices (18+ euros for a main course) but the trendy neighbourhood, design and good food just calls for young people looking to impress friends and a date/ waste a bill or so. Not surprisingly it was almost completely packed on a Monday night. Unfortunately the service can be a bit a slow but the dark and handsome French waiters will just give you a wink that can calm any impatient soul.
Metro: Gare de L'est. 9 Rue des Récollets 75010
Dans le Noir (4th): (Translates to In the Dark). My amour and I ate there for our anniversary as he surprise kidnapped me from class and threw me into a taxi. I protested, "I look horrible, I need to change!" and he smiled smugly saying, "Where we're going, no one will see you." Puzzled, I finally understood once we rolled up to this dark restaurant. This is not cheap in any way but it was one of the most perplexing dining experiences of my life and thus worth it at least once. If you have some money to spend, a date to impress or simply bored, I DEFINITELY suggest trying this place. As its name suggests, you eat completely and utterly in the dark. Not a smigeon of light for ambiance or to ease the swamping darkness as you eat blindly. An interesting concept is that they hired visually impaired people to serve. The goal is threefold: One, to feel empathy and understand what's it like to be without sight. The servers guide you to your seat and show you how to drink, eat and signal them. Two, taste the food solely with your taste buds and not allow your eyes to pre-judge as we often do. Three, to take away all the uncertainties and formalities that come with dates. No need to worry about red wine stained lips or holding your knife the wrong way. This place is about taste and conversation.

We got blindly drunk off of loads of wine and our conversation drifted to how weird it was to not see the person you are trying to communicate with; how lonely it can be without sight. I felt like I was in my own force field and felt it hard to comprehend that there were someone across from me when they were not talking. So absolute was the darkness and it soon be became apparent the full depth of our dependency on this ocular sense.

In the end we determined that for us, we would rather see our food. It gives it more taste as you anticipate the juicy bite that you are about to indulge on. In the restaurant we were secretly (and not very gracefully) scrambling to pick up the mystery food, smell it, feel it and then eat it, trying to decipher what it was. Impossible, but it was sure fun to guess and the complexity and physical limitations made it an adventure of a dining experience! Super expensive with your choice of mystery menus to take: the Green (veggies), the White (fish), The Red (meat mostly) and some sort of wild card menu where anything goes ranging from 40-80 euros per person. Of course you can tell them if you don't want something, so no worries about weird snake eyes ending up in your tummy, or peanuts that will kill you. 51 Rue Quincampoix 75004. Metro: Rambuteau


2. Vegetarian/Organic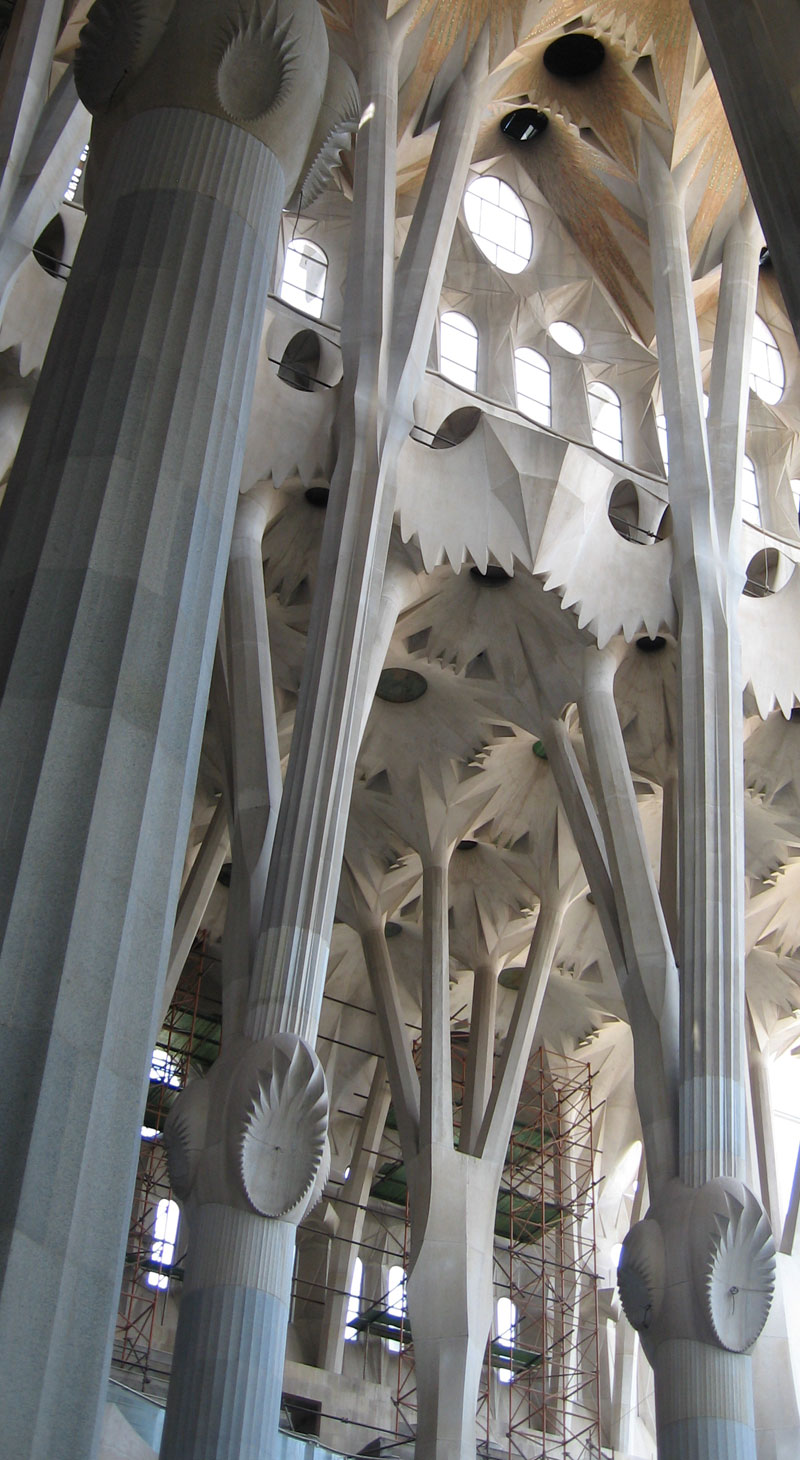 BIOart (13th): Everything in this restaurant is so gosh darn ethical from the locally grown produce, to the LED lighting to the re-used and recycled bottles and all the sustainably developed decor.
Also, it is supposedly the only restaurant in Paris that is 100% organic.
But if you're expecting a farmer's market type place filled with bare-footed hippies, you are mistaken. This place is classy, funky and chic and costs a pretty penny for your clean conscious (20 Euros and more avg). Nonetheless, I highly recommend this fairly new restaurant in town with a great view over the Seine and yummy, organic food and most importantly friendly and efficient service. This is definitely date worthy and great conversation maker, or trendy enough to take a group of friends for a sophisto night. If you're lucky, the eccentric owner will sit down at your table and explain his vision of the restaurant. 1 Quai François Mauriac 75013. Metro: Bibliotheque Francois Mitterand


The bio-art of Gaudi. Absolutely loved the inside much more than the exterior of Sagrada Familia


Au grain de Folie (Montmartre): Strictly vegetarian cuisine is served at this adorable and charming establishment. I haven't eaten here myself because I'm not much of a herbivore but the restaurant was packed on a Tuesday night (!) when I went by, a sure sign of its deliciousness. It is small and seemed like somewhere Amelie Poulain would have eaten. Everything is organic as well and a cheaper option than the BIO-art above. If veggies are your plate of beans then check it out and let me know how it goes! 24 Rue de La Vieuville 75018. Metro Line 12: Abbesses

Kitchen (3rd): This was suggested by a fan and described as "trendy veggie with a soul." Makes me want to give up a night of meat and try it out. Check out this blogger's article on the vegetarian restaurant for more insight, here.
Cravings for Ex-Pats

...


3. Japanese



Kiotori (Odeon) : You think you can live without sushi for long but you cannot. The urge will inevitably come to you as an ex-pat or backpacker, and when it does, this little list of ethnic gems will be waiting. Rue M. Le Prince is what I call Sushi Alley. There is restaurant after restaurant of Japanese food and they all appear the same. Like the Annex in Toronto it is impossible to know which one of the million are the best unless you have had time to test them out (repeated drunken nights at New Gen does not count!) or a friend has given you a recommendation. I have had the opportunity for both and Kiotori wins the race for affordable and GOOD QUALITY sushi at any time of day. They all have the same sort of menu and deals but the rice and salmon were much more fresh than that of its rivals across the street. Another bonus: when most restaurants in France close between 3-7 pm this one stays open, consequently saving the life of my maki-starved friend and I one afternoon craving. Warning: When I say cheap sushi in Paris, it means 10 euros or less. Unfortunately it is almost three times the price as a lunch special in Toronto… I know, it cuts deep. 61 Rue Monsieur le Prince 75006. Metro: Odeon

Lil'Fel's Pick: 12 Salmon California rolls + Soup + Coleslaw = 9 euros
Sushi West (6th): This is hands down the best sushi in town (and it's Kosher) so it's pretty darn expensive BUT if you get the lunch special it's 9 euros. SOO GOOD it's like candy melting in your mouth. It really fixes the craving if you're in Paris long enough to feel it. Also, chic airy design brings loads of light into the place, however to get the best offer, order your lunch special for take out, it's 10% less and go picnic at Invalides. 169 boulevard St Germain, 75006. Metro Line 4: Saint Germain des Pres

Lil' Fel's pick: 6 California Salmon rolls + 4 salmon sushi + coleslaw + rice (can get soup instead) = 9 euros.
Rue Saint-Anne (1st) : This street is known for real Japanese restaurants (not just Sushi for westerners) and is worth checking out the multitude of them to see what you discover. Haven't found one of my own yet, but will report back soon! (Thanks JKT)
4. Thai

Thai Classic (Chatelet): The best priced lunch special to quality ratio I've found in Paris. 8-14 Euros. The lady who runs it is super sweet but beware of her evil sister who has the power to severely dampen your dining experience. It is next to a gothic bar which is kind of an interesting clash but well worth it. After living in Thailand, I have found this place to have the most authentic and non-pretentious Thai food in Europe. Expect it to be packed at lunch hours (11-3. Careful, most restaurants close after lunch rush and open again at dinner) but never without at least one spare table. Off of Sebastopol near Chatlet. 26 rue Lombards,75004

Lil'Fel's Pick: Red Curry + Rice+ Jasmine tea = 9 euros



Aux 3 éléphants (2nd):

Lunch specials around 12 euros but sort of limited options (no classics like Pad Thai or curry in the special) and comes with a choice of starter. Its selling point is the fact that it is open on Sunday when most other Thai restos are closed. Moreover, the food, service and mini/cute outdoor patio make it a nice alternative in the summer to Thai Classic for a price that doesn't hurt as much as Num (below). Fried Rice, Pad Thai and curries goes for about 10 euros. If you are a major red curry fan, as I am, Thai Classic is still the best. However the Pad Thai (very adventurous, I know) won't disappoint. 36 rue Tiquetonne 75002. Metro: Etienne Marcel


Num (Chatelet): If you want something a bit more chic, I suggest this restaurant. The food is surprisingly delicious and authentic despite its touristy location and inflated prices. What you are paying for is the ambiance and if you have a couple dollars to spend or a co-worker to impress this is definitely the classy version of Thai Classic (15+ Euros for a main dish) .


5. Italian


Pupi (7th): This is not the cheapest establishment, but it is for me some of the best Italian in town for a reasonable price. Have more pre-parties than bar drinking, save up some money and impress your lovely lady friend on a romantic and charming date there. I myself was pleasantly surprised by my boyfriend's choice of restaurant two years ago for our first Valentine's day together where we drank loads of great wine and ran off to catch the night bus for our school ski trip. It is small, intimate and classy. The service is good and the food is delicious. Also, you have a gorgeous peak at the Eiffel Tower on your way in that completely sets the mood for a sexy and riveting evening of dining. 21 Rue Malar 75007. Metro Line 8: La Tour Maubourg

Lil'Fel's pick: Seafood Spaghetti with Tomato sauce less than 20 euros


6. Mexican
"It's funny because it's bigger than a normal hat!" - Celebrity Jeopardy

Mexi and Co (5th): Get Mexican food for under 10 euros here. I had the chicken burrito which came with rice, some chips and guacamole for 9 euros and the portion was huge! The colourful and lively ambiance, central location and food is more than worth the affordable prices. It's also hipster central. 10 Rue Dante 75005. Metro: Cluny-La Sorbonne


I Love Burger (5th): This place is truly a beautiful piece of America in Paris. It's a mix of American/tex-mex/bakery with a small and cozy ambiance THEY EVEN HAVE A PS3 hooked up. The best place about this is that unlike Breakfast in America (below), the prices are American too! You can get a burger and fries for 5 euros, tacos for 3, milkshakes, donuts etc. To be honest I will probably never visit the other expensive American "burger diners" again after discovering this. Oh yea, they deliver too. Read the review for more information: 20 Rue de boulangers, 75005. Metro: Jussieu, Lemonine

Breakfast in America (4th, 5th): I'm personally not a huge fan of diners (especially while in Paris) but I know
for many ex-pats this fills a gap that comes from eating too many tiny French portions and not having their bacon and eggs in the morning. I must say that it is kind of neat eating in the retro American ambiance especially when you're feeling a little homesick. 2 locations
Have a Nice Day aka HAND (1st): This is another recommendation by a Parisian fan/friend who absolutely loves America and has good taste. It is known for its super nice American owner, decent prices, fairly efficient service and great ol' American food. Haven't tried it yet, but it sounds delicious and like a neat alternative to BIA (above). If you've eaten here please let me know what you think! For more details, check out this review I found, here.
39 rue de Richelieu, 7500. Métro: Pyramides
8. Other
Deda (Chatelet): Ever had Georgian food? This has the service, quality and wine selection of a fine dining establishment and the prices are no La Tour D'argent. It is not cheap (20-50 euros) but if you check on the website there are often promotions and specials happening. Lastly and most importantly, go here for Georgian wine. It is made in a completely different way than regular wine and you can taste that difference. Since I've first tried it, it has become my favourite. If you don't have the funds to have the whole dining experience, go in for a glass or buy a bottle of the red for your friends and family. 8-10 rue Coquillère 75001. Metro: Chatelet


Restaurant Ethiopia (11th): While leaving the set of Decide-Toi Clement on the final day of shooting (release of episode 2 on June 6th) my lover and I Vespa-ed down a tiny street and happened to pass an Ethiopian restaurant. Kind of hungry and looking for adventure we decided right then and there to turn back and try it out, and we would not regret it. The restaurant was moderately full (always a good sign) and the service was friendly. The main dishes were all pretty cheap from 10-13 euros. There were choices of chicken with spices, stew beef and other yummilicious things. Also many vegetarian options! Paul and I decided to try the "menu" for 20 euros (for one person but we split it and it was enough) which came with a sampler of the chicken, beef, veggies and other spices, accompanied with a roti like bread. I was reminded of home because I felt like I was eating chicken curry and roti (with our hands) and that made me very happy because I'm starting to miss home-cooking. It wasn't as spicy but it was super tasty and I think it may on the list of places I'd go back to often (especially given its cheap prices!) and I am mega excited about finding it! 91, Rue du Chemin Vert - 75011 Metro: Voltaire

Lil'Fel's Pick: Beef Stew = 12 Euros





9. Where NOT to go:
Review of WATT (5th):

This place is deceivingly rad when you first walk in. The design and layout is meant to feel like dining in one's living room, with couches everywhere and boardgames BUT the food and service is so atrocious that you really should have just stayed at home if that's what you were looking for. The price is not that cheap nor is the food exceptional to excuse its disgusting service. I went there on a date and was greatly appalled when we asked if we could have 1 of our 3 appetizers brought out with the meal rather than all together, and was met with a point blank and unapologetic, no. Have I mentioned that I've served most of my university career? What was inexcusable was not the fact that it was unable to be done but the fact that he did not even attempt to relay the request to the kitchen in order to satisfy the clientele and was exceptionally rude about it. I know, I know, I'm not in North America where that kind of attitude would win you a free meal and I said you have to expect the French, but it gets worse.
There are a couple of things the French get right, even if it's not its friendly attitudes, and that's its coffee and its wine. Watt messed up what most classy restaurants would not even dream of. We had ordered a whole bottle of semi expensive wine (it had been a while since my love and I had really even had a conversation), and it was merely opened and plopped on the table. I may be about to come off as pretentious but my anger stems from my working in a classy French restaurant for a while and NOT my frequenting of them. What is meant to be done is first a presenting of the bottle to the clientele and then a small amount poured in order to taste if it is still good. None of that was done. As I said, for the price we paid, we were better off cooking in our own living room and opening our own bottles of wine. Last and not least, we saw a mouse run under our table. And that was the straw that broke the camel's back for me.

I may seem overly upset by the experience, but people do not have time nor money to waste on shit service. If someone decides to eat somewhere a bit upscale and use their hard earned money and little free time for a pleasant experience, their conversation should be on love and immigration policies in Europe and absolutely not be centred on server attitudes. I really wish I could blame the experience on one bad waiter but it was apparent that it was a whole mentality of the restaurant that was the problem, given the impoliteness of the manager and the poor organization and training of the other servers. The most inconceivable part was when we told the manager (also our atrocious server) the nature of our dining experience, he said and I quote, " I can do something about it, but I don't want to." I ask you, is that unforgivable? 3 Rue de Cluny 75005, Line 10, Maubert-Mutalite


Scoop (1st): This place has great reviews for its brunch and burgers but we went there and found it overpriced (20+ Euros) and overall a big fat 'meh.' If you want a good ol' American brunch, seriously go to Breakfast in America or HAND listed above. 154 Rue Saint-Honoré 75001. Metro: Line 1, Louvre-Rivoli
* These are all my little (and some not so little gems) that I have found in Paris. But Paris is a city of endless discovery. Please share your own gems or let me know what you think about mine if you try them out! Merci tout le monde, a plus!
10. Music
Old news but still as powerful as on the first day I saw it. A taste of the beauty and wonder that is possible in Paris. Can I say that this still has the power to make my heart speed up and make my eyes close dreamily? My dream: to be lucky enough to stumble across this splendid orchestra on the streets.
Beirut- Concert in the Streets of Paris




Gavras' interpretation of the ugly side of Paris that tourists don't see or really anyone sees if they stay mostly in the centre.




Part One: How I Hated Paris
A Day in the Life..
A Night in Paris